We tend to think of house rabbits as being a new approach to rabbit care but we have a bit of a family tradition of it. My mum has often told me about her house rabbit Rodney. So today we dug out the photoalbum and I asked her to tell me all about him…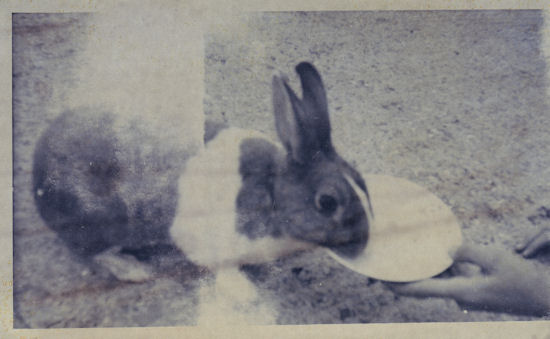 "We got Roderick, known as "Rodney" or "Rodders", from a pet shop in the  mid 60s. He was brought to be a magicians rabbit as my mum was a magicians assistant, but he grew to big to fit in the top hat, cutting his career short.
"He had a hutch under the kitchen sink when we first had him and freerange of the downstairs – quarry tile floors with a rug. He was partial to a cup of tea and frequently found with his head stuffed in visitors teacups when they left them on the floor. One of his favourite places to rest was on the rug in front of the real coal fire, stretched out with his ears folded flat. He often surprised visitors when he popped his ears up and they realised he was a rabbit, not a cat!
"He also liked to sit on the window sill and wait for me to come home from school. He knew what time I got home and would jump up to wait, if I was late he'd get bored waiting and nibble the plants. He was also partial to the television cable, which he ate on several occasions whilst the telly was on – he obviously thought he wasn't getting enough attention. He did it so often the TV repairman would comment: "It's that rabbit again" when he visited to fix it. That was the only thing he really chewed though apart from nibbling books a little.
"He was an uncastrated male but we didn't have any problems. He was house trained – we trained him by putting a newspaper in his preferred corner then moving it closer to the back door. Once he was trained, he used to ask to go out like a cat when he needed the loo. On one occasion a medium sized dog broke into the back garden, I opened the door to let him out for the loo not realising  and he growled and launched himself  at it, grabbed it by it's throat and kicked it with his back legs. I had to pull him off the dog and which ran off with its tail between its legs.
"He ate all the household vegetables, bran, crushed oats, and a few commercial rabbit pellets as a treat. He had free access to grass outside. We collected him dandelions and other weeds too. He used to visit neighbouring gardens for additional supplies, but he always came home again. Sometimes at high speed with the neighbours hot on his heels.
"In later life he lived with my German Sheppard, Sheba. They were good friends and Sheba used to wash his ears. He had a low pen which he could jump over, but the dog respected that was his space and didn't intrude. When Rodney died (he must have been around eight by then) Sheba howled all night."