It's a little early for Halloween yet, but it is creeping up. I've been getting ready by drawing some Halloween bunnies for my Cafepress shop.
When I'm drawing I start with a pencil sketch, then ink the drawing with a pen, then scan it and do some computer wizardry to trace the lines and remove the white background ready to colour (if I want to). Here is an example:
The scan is usually a closer copy of the original inked picture, but I was playing around with the settings and I liked it. This one is definitely Scamp influenced – I can see him thinking a Halloween pumpkin  is a perfect bunny toy. It would probably have a few more chew marks though!
These Halloween bunnies are more cartoony but they start the same way, sketched, inked & scanned: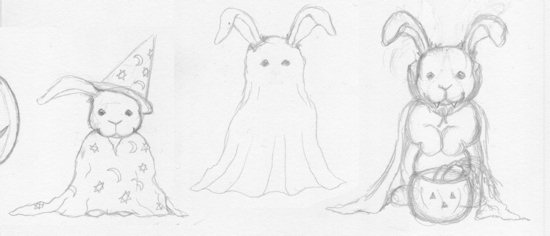 I ended up colouring them in though, and here's the end result: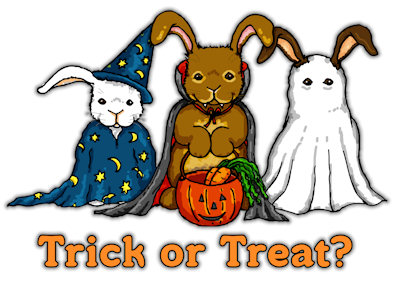 The bunny in the middle reminds me of Scamp too – the cheeky grin, not that he has fangs!
Tags: bunny-art