Boxes make brilliant rabbit toys, Scamp always has a cardboard box or two or three but they aren't so good for outside as they tend to melt when it rains. So, Gypsy has a wooden box, the sort you get veggies in (another freebie from a farm shop). It was looking a bit grotty though…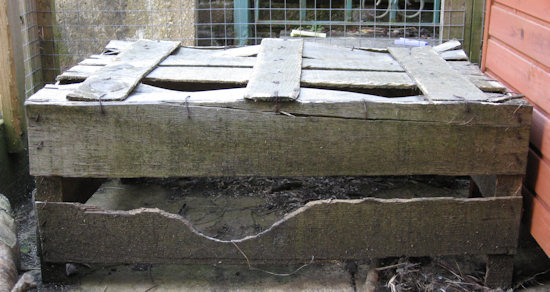 Then I remembered there was a spare rabbit box sitting around with no rabbit in it! I brought it originally for when Scamp was exercising on the balcony. Unfortunately we had to stop that (short version of the story – 4′ barrier… ladder to remove rabbit from roof… 5′ barrier… ladder to remove rabbit from roof… 6′ barrier… ladder to remove rabbit from roof… 7′ barrier… rabbit from roof & banned from balcony). The cat that adopted it for awhile but it has been unused for months now after she passed away. Despite being outside for a couple of years it's in great condition, the little legs and felted roof meant the blanket inside was totally dry. So after a clean out I moved it to Gypsy's run.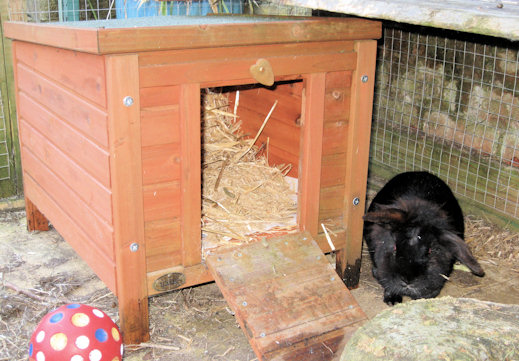 She was totally unimpressed in the way of a rabbit woken from a mid-morning nap for a reason that did not involve food i.e, she took one look and went back to bed. I'm sure she'll get more excited later.
The great thing about boxes is they are multi-purpose, not only is it an extra snug hideaway but that top is just right for sitting on and fits next to her shelf perfectly.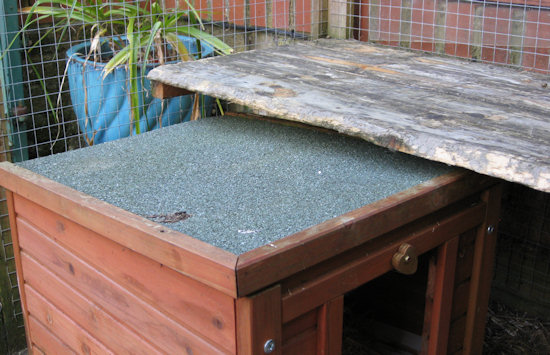 Ps. Tune in Monday for some rabbit welfare news from the RSPCA.
Pps. That reminds me, I've added email/rss subscribe links to the left there. I'm not sure what the most popular methods are for keeping track of blogs so if you have any other suggestions for widgety things can you let me know.
Tags: hide, rabbit-products