I should think most owners worry "Is my rabbit too fat?" or "Is my rabbit to thin?" at some point. Rabbits' weight can be quite difficult to judge as their fluffy coats hide their shape well. I thought Gypsy was looking a little thin, which is unusual as her lionhead fluff generally makes her look a little round.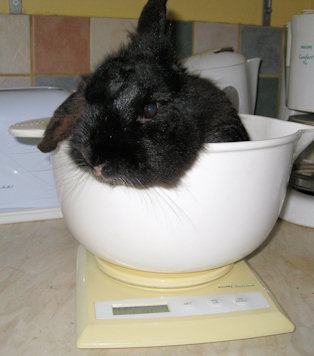 The answer to weight worries is to pop your rabbit on the scales. If your rabbit hasn't been weighed recently then I'd recommend you do so now and note it down somewhere. Weighing a rabbit is fairly easy. You can use normal kitchen or bathroom scales (bathroom scales usually go up higher – handy if you've got a giant, but kitchen scales are generally more accurate). If your rabbit won't sit still then pop them in a bowl or in their carrier (subtract the weight of the carrier afterwards).
It's important to compare your rabbits weight to their normal healthy weight not a breed estimate. Rabbits of the same breed can vary greatly in weight. For example, the UK breed standard weight for a Lionhead is between 1.37kg and 1.7kg (3lb – 3lb 12oz).  A lionhead with a healthy weight at the top end of that range could lose 20% of their body weight and still weigh in within the 'standard' range, but that much weight loss would make them significantly underweight.
Of course not all rabbits fit the standard to start with, even pedigree rabbits can be too big or too small and pet rabbits vary even more as they are often cross breeds. Gypsy had a vet check up a month ago and weighed in a just under 2kg, too high according to the breed standard but a healthy weight for her according to the vet.  Once you know your rabbits normal weight you can then reweigh them regularly as part of your normal health monitoring. As we all know, rabbits are good at hiding illness and weight loss can sometimes be the first clue to a problem. Likewise, rabbits are also prone to weight gain and monitoring your rabbits weight can help you adjust their diet before any gain becomes excessive.
Gypsy weighed in at 1.66kg so will be visiting the vet to find out what has caused the sudden loss.
Update: Unfortunately, it's not good news from the vet. Gypsy has, what the vet believes is a cancerous mass in her stomach. At eight years old we're not going to try anything dramatic and invasive so she has Metacam and we'll monitor whilst feeding her lots of scrummy things and see how she goes.
Tags: rabbit-health