I hope everyone is having a good Christmas. Scamp got a little bit spoiled, especially as I have no idea how such a little toe-rag didn't end up on Santa's naughty list.  Here are his goodies: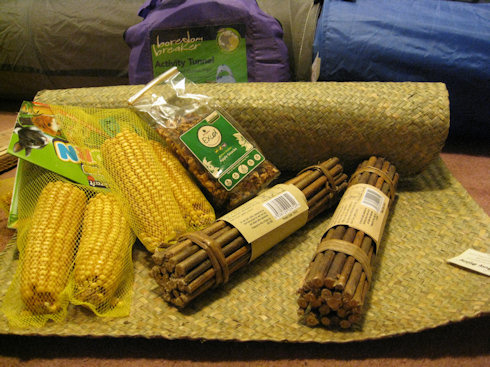 There was rather nice wood and carrot hanging chew too but he ate it before I took the picture. He has some long pop up tunnels to use whilst he's out exercising. I haven't popped them all up yet but so far he's enjoying playing, race through the tunnel, poke the nearest pair of ankles and dash back through so no one can tell it was you.
He has a new 'doormat' as he eaten the old one. This time it's made out of bunny approved materials (seagrass) which I'm sure he'll test thoroughly.
So, did your bunny get any fun presents?
Tags: rabbit-toys, scam, Scamp