I believe it is traditional to reward your loyal blog readers with a free giveaway (can you tell I just read the handbook). I thought I'd save my one hundred and first book just for you. I want something in return though, yes, I know a little bit cheeky. As my book is about behaviour and I often write about Scamp's odd habits, I thought I'd ask you what is the oddest thing you've even seen your rabbit do?
I'll pop the names of anyone that comments with their rabbit's odd quirks by Monday  in a hat and send the winner a free copy of my book.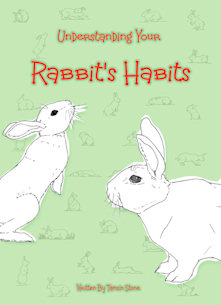 Then I'll sit back and enjoy the funny/weird/wonderful bunny tales you share.
Ps. Has anyone tried making bunny biscuits? The sort for rabbits to eat not human biscuits in the shape of rabbits. I found a bag of fenugreek in our herb draw and apparently that's like rabbit cat nip, so I was wondering about home made treats. Anyone got recipes/instructions?
Edit: And the winner is Annette! I'm glad I just pulled the name out a hat (well random number generated) instead of having to pick. I feel sorry for the people that don't realise how wonderful bunnies are with their entertaining little quirks and individual personalities.
Tags: book