If you follow Scamp's antics, you probably know he lives in the kitchen. His private space is usually a box/tunnel, and for the last little while it has been a round tunnel with an upturned box over the top as a look out spot. Recently though, it's begun to have serious structural issues. The roof is getting lower, and lower and lower. After consulting a structural engineer, we determined the issue to be – 'the little monster has eaten the floor, 90% of the sides, two corners and part of the roof'. I believe this is the official term for 'time to get a new box'.
So we acquired a lovely new box:
Unfortunately, we do need to be able to walk down the kitchen, you know for important things like cooking rabbit treats and transferring carrots from the fridge to the food bowl. So after a few days playing with the big box in the living room, we had to do a little DIY. We started by measuring the box and carefully working out a plan.
Then Scamp went to work on making additional exits…
…. whilst I attacked it with a stanley knife.
The trouble with square tunnels is they have a habit of leaning, we often make our tunnels triangular by slicing one corner and overlapping two sides, but I've a different plan this time.
First I sliced the corner and refolded, to give it double thickness walls, twice the chewing potential.
Then, using the spare bit of box from earlier, I cut two arches and posted the tunnel through the box.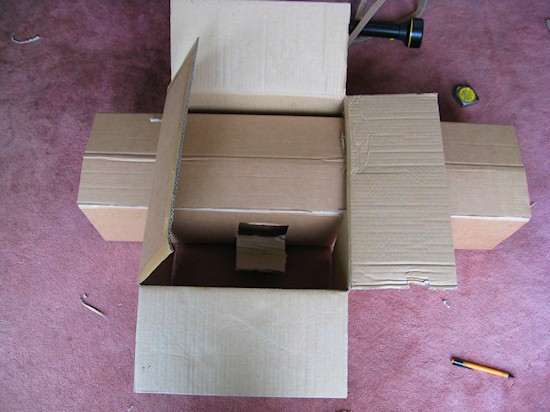 A carefully positioned hole in the tunnel (which I'm sure Scamp will expand) gives him access to a nice snug hidey hole, and once the lid is closed the tunnel will help support the roof.
Very smart looking, if I do say so myself. Of course, how long it survives is the real test. I imagine it will have a few extra exits in no time!
Anyone else carefully craft warrens out of boxes?