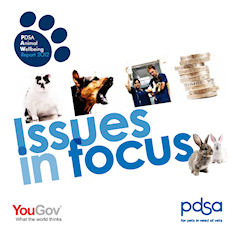 Okay, I know I said I'd talk about poop next, but the PDSA's Animal Wellbeing (PAW) Report is out today, and I'm really excited to see what has changed since the 2011 PAW Report.
Let me set the scene, the PDSA is a big UK veterinary charity than runs free and discount clinics for pets whose owners are on benefits. One thing I love about the PDSA, as well as that they provide free vetcare to animals in need, is that they treat bunnies just as important as cats and dogs, so their report has lots of fascinating insights on their welfare.
Last year's report looked at how well owners provided for the five needs outlined in the Animal Welfare Act: environment, diet, behaviour, social interaction and health. This year they focus on several key issues: diet, behaviour (specifically dogs), heath and pet ownership. The report is 68 pages long, and it's an interesting read. I'm just going to pull out a few rabbit related facts but do download a copy to get the whole picture.
Diet
A bit of bad news here,
44% of rabbit owners continue to feed rabbit muesli as their rabbits' main source of food. Many owners may think this is typical 'rabbit food', but may not be aware it is actually unsuitable for rabbits and linked to dental and digestive health problems.
There is obviously still a bit of education to do about the right and wrong kinds of rabbit food. I think I'm going to revamp the diet pages on my website and focus a bit more on the choices available. It's tricky to get this message across as a lot of owners will just pick a colourful looking bag in a pet shop and assume it's good and never do more research. I wonder at what point manufacturers will start phasing out their muesli lines in favour of pellets – I know some sell both and they must know pellets are better.
The good (ish) news:
Rabbits should eat at least their own body size in hay or grass each day but 36% don't.
Why is this good news? Because last year the figure was 45%, which means in the last year there has been a big improvement in the number of rabbits getting enough hay or grass. Let's hope this trend continues.
Health
Here the report looked at routine heath care such as neutering and vaccinations. The good news is that these figures were up for all animals, including rabbits.
| | | |
| --- | --- | --- |
|  Rabbits | 2011 | 2012 |
| Vaccinated | 46% | 52% |
| Neutered | 37% | 47% |
| Microchipped | 3% | 7% |
| Insured | 6% | 9% |
The report also gave the top three reasons owners gave for not neutering/vaccinating…
Not Neutered Reasons:
Haven't thought about it
Too expensive
Worried about general anaesthetic
Not vaccinated Reasons:
Not necessary
Too expensive
Haven't thought about it
Still some educating to do here too, but in some ways that is good because if the reasons they give are things you can fix with education that means there is the opportunity for change. It sounds like we need to make people more aware that rabbits can be neutered and what benefits that brings, and also get rid of outdated misconceptions about anaesthetics. We also need to make people aware that vaccinations are necessary, many owners don't realise this until their rabbit catches one of the fatal diseases they protect against.
Ownership
The PDSA estimates the lifetime cost of owning a rabbit is £9k but 81% estimated cost less than £1k. That's quite a wide gap. Even ignoring unexpected vet bills, the cost of housing, food, bedding, vaccinations is easily over £1k across 10 years life expectancy. It's not surprising so many animals are abandoned because people have trouble affording them.
The PDSA asked vets about their concerns as well as surveying pet owners. Vets say their concerns general pet ownership are:
owners not understanding costs
lack of information at purchase
lack of awareness of the five needs outlined in the duty of care
For rabbits specifically, their concerns were:
inappropriate diet
dental disease
inadequate space for exercise
It sounds like diet all around is quite an important issue, which isn't surprising when you consider how important food is to rabbits!
Conclusion
So what does this all mean? Well there are signs that education messages are getting through, but there are still many areas that need a lot more work. The great thing about quantifying the issues is you can tell when things improve so get out there and get educating and hopefully the 2013 report will be even better!
Tags: paw, rabbit-welfare