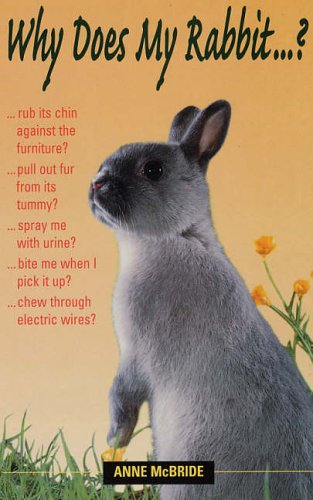 Just before Christmas (Happy New Year!) Souvenir Press offered to send me a copy of 'Why does my rabbit…?' by Anne McBride to review. In case you haven't guessed, I said yes and here is my review.
The book is divided into three parts, the first 'Behaviour Counselling for Rabbits' discusses behaviour counselling briefly, but more interesting is the information on the history of the domestication of rabbits (who first arrived in Britain with the invading Normans) and the influences on rabbit behaviour – that old and much debated topic – nature verses nurture. McBride also talks about the influence of 'Management' – the way an individual rabbit is kept, such as the space it has access to, social companions and diet, and how these can effect rabbit's behaviour.
I think these are some of the most under appreciated influences on behaviour. Too often people write off a rabbit as being aggressive or grumpy natured when they are just reacting to the environment provided for them. The lovely people that adopt rabbits from rescues and provide wonderful environments are often rewarded with rabbits that flourish in their new surroundings.
Part two asks 'What is a Rabbit' and looks at wild rabbit behaviour, which is excellent, because if you want to understand pet behaviour you really need to put it into context. It covers how and where rabbits live and reproduce. It includes quite a bit of detail about rabbits senses and habits and how they are adapted to help them survive:
If feeding close to a place where a predator could be hiding, near a hedgerow or a shed in the garden, for instance, then the rabbit will lift its head often to check that all is well, a lesson Peter Rabbit's father had not learnt, to his cost. Frequent checking is also necessary if the animal is feeding a long way from its burrow, at a distance of over 35 metres (38 yards). To cover this sort of distance at speed is quite an effort and may mean it gets outrun and caught by a swift-footed foe such as a fox. But when a rabbit is feeding a reasonable distance from its burrow and clear of any cover which could be advantageous to an enemy, it can afford to relax a little, knowing it has time to retreat to its burrow if surprised.
The final part, and the longest, answers the question 'Why does my rabbit…?' with an A (Attack me when I bring food to her?) to Z (Zoos) look at common issues, which includes a few non behaviour related tit-bits such as agility, old age and injections.
Some issues are more indepth than others for example, chewing the hutch is covered in just half a page, but there are so many different aspects covered that you'll gain much more reading the whole thing and seeing how changing 'management' to help with one issue will often help with others.
The surprising thing is this book was originally written in 1998 (15 years ago), but you wouldn't know it reading it. Whilst many other rabbit care books that old are now completely out of date and some so bad they make me cringe, this could have been written yesterday. If I had to find something negative to say, it would only be that we'd perhaps plug neutering slightly more strongly (though it is mentioned several times throughout the book) as a first step in more behaviour problems, e.g. aggression, today, but it's become a much more routine operation and much easier to find vets familiar with it.
In summary, I would recommend every rabbit owner have a read of this book!
Two Book Giveaway!
I love getting free bunny bits and bobs, and I think my lovely readers should get to enjoy the feeling too, so I'm giving away this copy of 'Why does my rabbit?' along with a special edition of my own book 'Understanding Your Rabbit's Habits' which has 10 articles on bunny behaviour problems added to the back in addition to the illustrated guide to bunny behaviour. It's the perfect package if you're interested in rabbit behaviour.
All you have to do is leave a comment on this post telling me the naughtiest thing your rabbit does. I'll pop all your names in a hat and pick a winner on Feb 1st.
One final thing, I'm getting the hang of twitter, so if you've got an account please say hello to me @therabbithouse