Rabbits love to dig! In the wild they dig burrows to live in and shallow scraps to rest/sunbath in. Anything in their way, eg tree roots, gets gnawed through. That's great outside but no so good when the 'soil' they are digging in is your carpet and the 'tree roots' are your skirting boards.
You are not likely to come out on top of any attempt to stop your rabbit digging. Digging is what rabbits do. Instead you need to redirect the behaviour to a more appropriate outlet, are here is one solution…The Yellow Pages (or any other handy telephone directory). If you don't have a spare to hand then a pile of newspapers might work as a stand in.
If you put the yellow pages in a box it will help to stop your rabbit just digging it out of the corner and caring on with eating your flooring. I've used a washing up bowl.
So, take one box/bowl, put it in the corner your rabbit digs, add one yellow pages and one rabbit: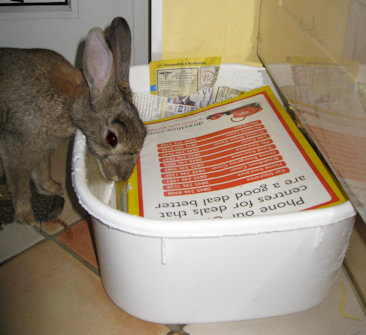 Leave briefly unattended and return to: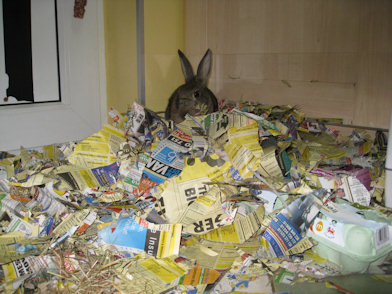 If you prefer a little less mess then use a bigger box, a large cardboard box with just an entry hole might help keep some of the mess down.
One crate full of shredded paper for the compost bin, ready for growing rabbit greens: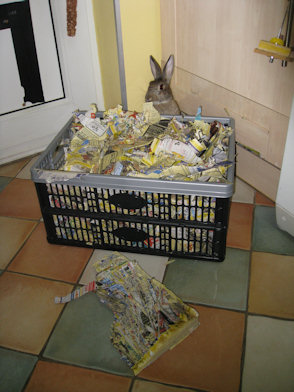 Tags: behaviour-digging, rabbit-toys