Scamp is rather chuffed, we got some new shelves and that means boxes! A 8′ long box to be exact – just perfect to make a tunnel.
First thing you need to do with a tunnel … make a second exit.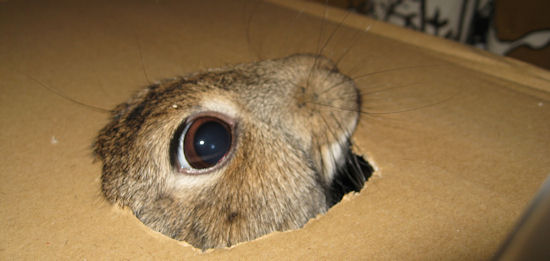 I've been a bit busy with work and enjoying the warm weather in the garden. Scamp on the other hand is still busy trashing the kitchen. He's perfected the art of jumping from floor to worktop and demonstrated by eating the electric wire to the microwave (cut out the power but didn't zap himself – how do rabbits do that?). We are presently experimenting with nets, so far this has resulted in a net with even bigger holes and a rabbit napping on the bread board. Maybe the tunnel will distract him.
Tags: rabbit-toys, Scamp, tunnel