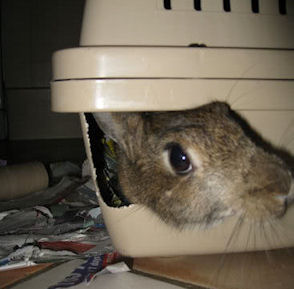 Awhile ago Scamp's transport case had a little accident. By accident, I mean I underestimated Scamp's chewing abilities, again. I left the carrier in the kitchen as he was enjoying popping in and out and sitting on top. In hindsight perhaps I should have considered his previous box redesigns but it is (was) a fairly sturdy carry case. As cases go I thought is was quite nice, Scamp thought there was something missing though. It only had one exit… you can probably see where this is going. Yes, Scamp's secure rabbit transporter now has an emergency exit.
I should point out, at no point was Scamp shut in the carry case. He was not a poor trapped bunny that wanted to escape. Nope, he just felt that the large doorway a few inches from he tail was not the best route out and proceeded to make his own exit.
Need less to say, that means a new carrier. Whilst emergency exits are usually good for health and safety, they are no so good when trying to get a rabbit to the vet.  I considered going for an all wire mesh one but I think they are too open for a rabbit  to feel secure and the risk of him sticking a leg through the wire is too high. After a bit of browsing I decided on this carrier from Wilkos: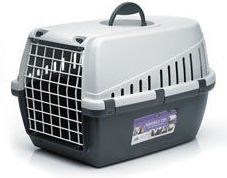 It has all the basics: solid sides for a feeling of security, wire door (no point in plastic 'mesh' with a rabbit), plenty of ventilation holes, and it splits into two so it takes up less room when not in use. All that for £14, which isn't too bad if someone eats it again!
I'm trying to expand the advice for bunny owners on The Rabbit House, so you can read my tips on rabbit carrier selection here.
Tags: rabbit-carrier, rabbit-products, Scamp