This time last year I was writing about all the rabbit safe plants that I found in my garden for Scamp to enjoy. I've been picking leaves again and Scamp's been enjoying them, but I know shortly autumn will turn them all pretty colours and that will be it for tasty leaves until next spring. Wouldn't it be wonderful if there was some way to store them up so Scamp could eat them all year around? Well, maybe there is. My experiment with making my own hay proved that it was possible to store tasty summer grass for eating later (I've made several more batches since), so why not do the same with other plants.
I started by collected a pile of tasty looking leaves. Look for green healthy looking ones without blemishes (or bugs) and collect them on a dry day.
Don't forget to get your bunnies approval, there is not point going to the trouble of drying and storing leaves your bunny won't eat. Scamp gives all these a pass on the taste test. I divided my pile in two, half for his supper and half to dry out.
The leaves for drying, the ones Scamp hadn't eaten, I spread out on a tea tray on top of a couple of sheets of kitchen roll: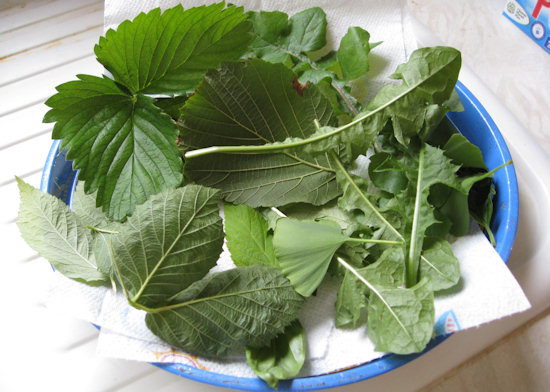 Then I popped them in the airing cupboard where it is warm and dry. I wasn't sure how long it would take, but it was surprisingly fast! In just 4 days they looked like this: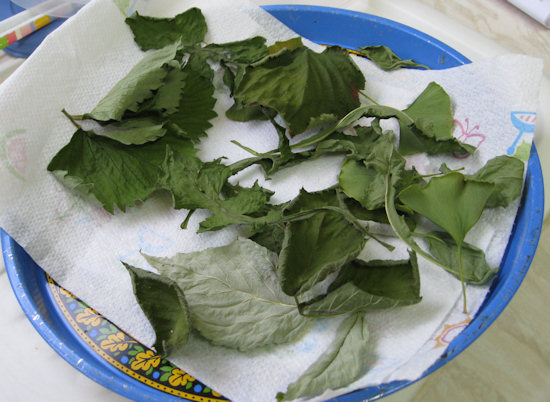 It's surprising how much they shrink! The Ginko leaves (which are thicker) needed a couple more days but everything else was dry and crispy. But the big question is, do they still pass the bunny taste test?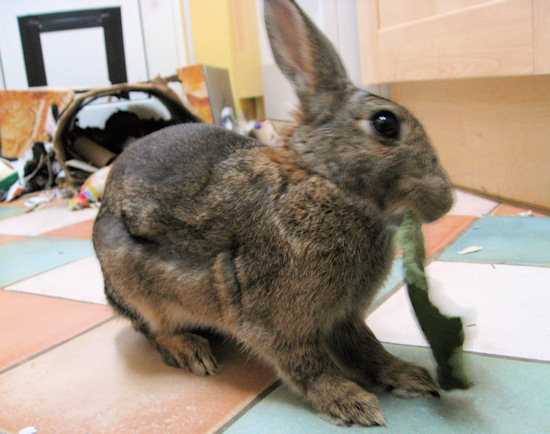 The answer is yes, Scamp seems just about as excited about dry leaves and the fresh ones. So I'm going to be drying a lot more leaves to provide tasty, home grown, rabbit food full of vitamins and completely free!
Other was to Dry Plants for Your Rabbit
There are several ways to dry out leaves for storage:
Leave them somewhere warm and dry like I did … I put mine in the airing cupboard! It takes 4-5 days to dry them out.
Lay them out outside and let the sunshine do the work. The drawback is you need sunshine! You may want to stretch a bit of clear plastic above them to keep the rain off.
Use your oven. You can dry leaves in an oven on the lowest heat setting, or better yet, save energy and just use the leftover heat after you've cooked something. The downside is you can't fit much in at once and something can be a little stinky. I doesn't take long though (about 15minutes), we did this with Scamp's first greens when he was a tiny baby.
Tags: Diet, grow-your-own, Scamp