Small Furry Pets magazine interviewed me this month about my work with Rabbit Rehome (a website promoting rabbit adoption). One of the questions they asked me was whether certain breeds of rabbits were more popular and therefore quicker to rehome.  It's hard to pick the most popular rabbits, there are such a big varieties that end up in rescue centres, but it's very easy to pick out the least popular. Ask any rescue and they'll tell you the the very hardest rabbits to rehome are brown with upright ears (black rabbits and white rabbits with red eyes follow close behind). It seems a shame that somewhere along the line rabbits in their natural form have become those that are seen as the least beautiful.
So today, I'm going to tell you, with Scamp's help, why brown is the prettiest colour of them all.
Now when I say brown, it's a bit of a fib, in fact if you look really closely at a wild bunny you can find most of the colours that make up range we see in domestic rabbits. For example, the soft orange fur on the back of the neck: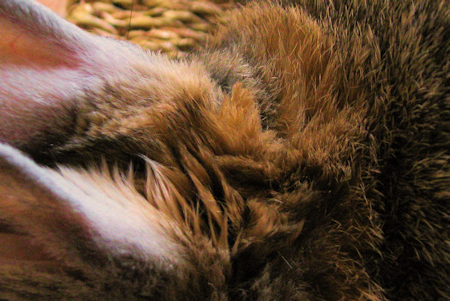 And a ticklable white fluffy belly: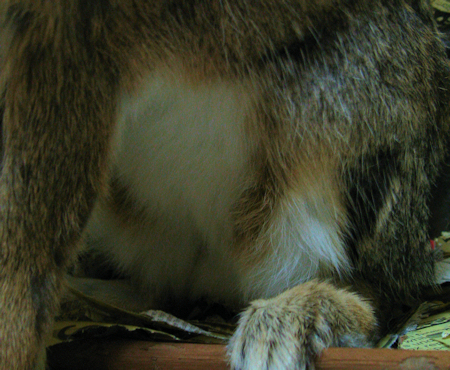 Even the bits that look brown, aren't. Bunnies like Scamp are actually 'agouti', which means:
Fur in which each hair has alternate dark and light bands, producing a grizzled appearance.
I think we'll ignore 'grizzled' (grizzled? obviously someone hasn't seen a beautiful brown bunny). If you blow into the fur of an agouti bunny this is what you see: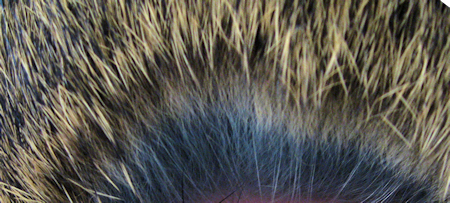 Each hair is a mix of grey, chocolate, cream and black.
The best thing about brown bunnies is they are the most creative moulters, the layers of colour means that as new fur grows through you get amazing (and occassionally embarrassing) patterns. This is what Scamp looks like at the moment: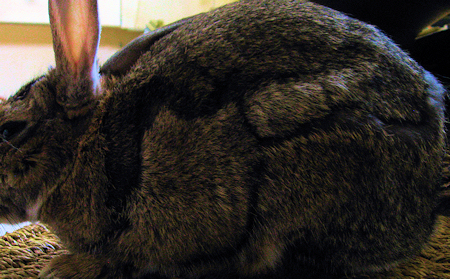 The dark areas are where the old fur has moulted out, and the black tips of the new fur are coming through. It's like trying to make pictures out of clouds, you never know what shapes he'll grow day to day, sometimes he has a Nike tick on his forehead, sometimes a saddle, looks a bit like a giraffe at the moment!
February is Adopt a Rabbit month in the US, and if you are thinking about adopting a bunny, please have a look at those that are perhaps not quite so flashy but may have the best characters,  or be little terrors like Scamp.