Last weekend, Scamp got a big parcel in the post, from Monster Pet Supplies, with the note below enclosed: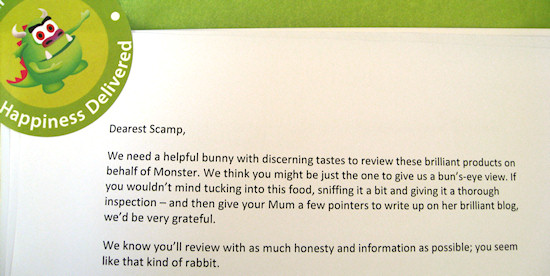 Me: Scamp, come here – look what you got in the post.
Scamp: A box! That is the coolest box ever, I love spots they go with my moult stripes. I give it a 10 out of 10.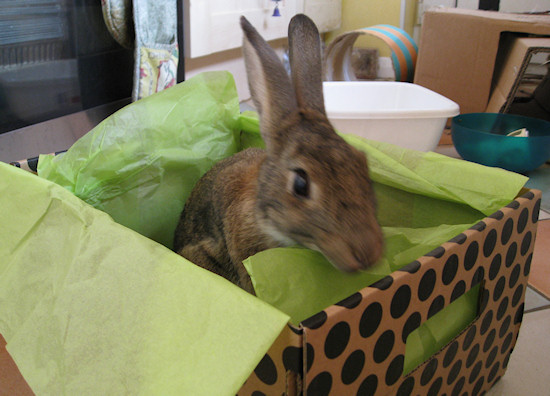 Me: Umm, no, you're meant to be reviewing the products that came in the box.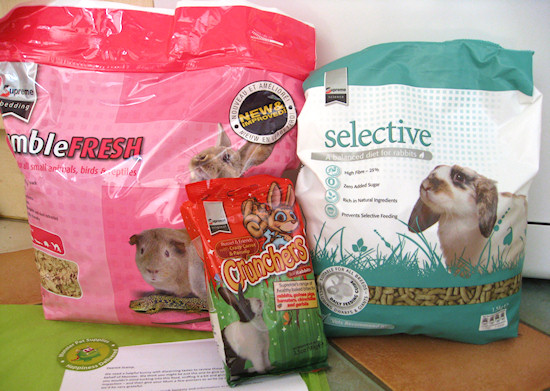 The Treats
In the box: Russel & Friends Crazy Carrot & Parsnip Crunchers
Me: Look treats!
Scamp: I love them!
Me: You haven't tried them yet…
Scamp: They are treats, I haven't met a treat I didn't like.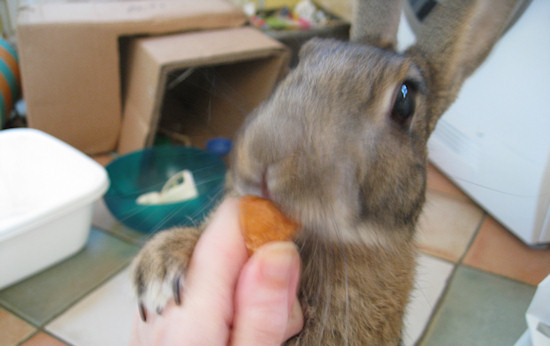 Scamp: Told you I'd like them.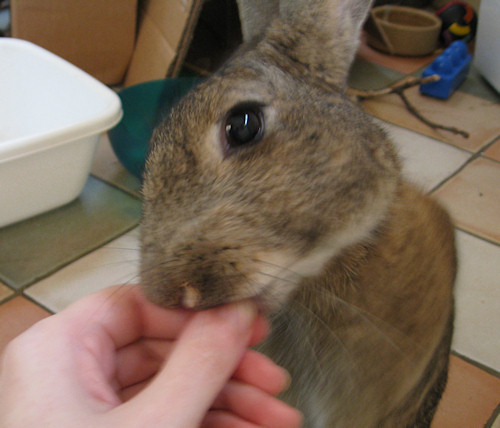 Me: That is my finger!
Scamp: Just checking for crumbs.
Scamp's verdict: Extremely Yummy
My verdict: Actually, for commercial treats, these aren't so bad, they are basically carrot/parsnip, wheat flour and flaked oats – I add oats to my home made treats. So while a lump of parsnip is a healthier option, as a special treat now and then Scamp will take my finger off for them.
The Litter
Also in the box: Supreme Tumblefresh Bedding
Me: Look, some lovely litter for your tray, it's 250% absorbent!
Scamp: Hold on, let me wee on it!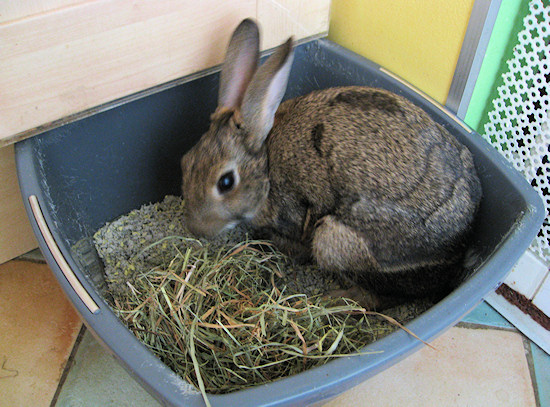 Me: Wait, I thought you were going to wee on it?
Scamp: Every bun knows you can't wee on it until you've kicked it about a bit – this is why they've got a rabbit to write the review.
Scamp's verdict: What can you say, it's litter: I wee'd on it, it didn't explode or anything. It's soft of my behind, so I'll take it.
My verdict: This is very similar to the paper based cat litter Scamp usually uses, it seems to work a treat and like the cat litter it is compostable. I like the resealable bag and I think it smells nicer than the cat litter. Only downside is it works a bit more expensive.
The Food
Also in the bag: Supreme Science Selective Rabbit Food
This is Scamp's normal brand, so we already know he likes it. Although, when I got a new bag a few weeks ago they'd upped the fibre and Scamp wasn't quite so keen. Supreme were nice enough to send Scamp some of their 'Mature' version of the pellets to try out – which he approved of. He seems to have got over his huff about the original bag now any way (contrary rabbit) – he's got rather a lot of bags/varieties to munch his way through now!
Scamp: I'll try one of these (yum), and one of those (yum), oh no I've forgotten what the first one tasted like, I'll try one of these (yum), and one of those (yum), maybe one of those and then these (yum). This is such a tough job!
Scamp's Verdict: Yum
My verdict: I love Supreme Selective – I've been feeding my bunnies on it for years.
Supreme also sent him some Fibre First to try out – which Scamp loved. The Fibre First is a sort of cross between a pellet and a compressed grass cube, they are 2-4″ long and smell gorgeous – all herby.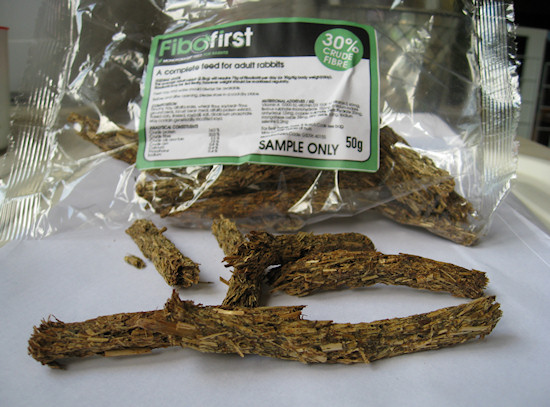 They would be brilliant if you've got a bit of a reluctant hay eater. When Scamp's munched his way through his current supply of food (maybe by Christmas) I think I'll get him some more of these.
So, thanks, Monster Pet Supplies and Supreme, Scamp very much enjoyed eating, err, helping you review, your products.
Tags: litter-tray, rabbit-products, Scamp