Occasionally Scamp gets sent cool things to review like tasty salad bowls. Recently he was offered a home monitoring system to try out, which seemed a slightly odd thing to offer a rabbit (no matter what Scamp thinks no one is going to steal his treats), but was actually a lot of fun.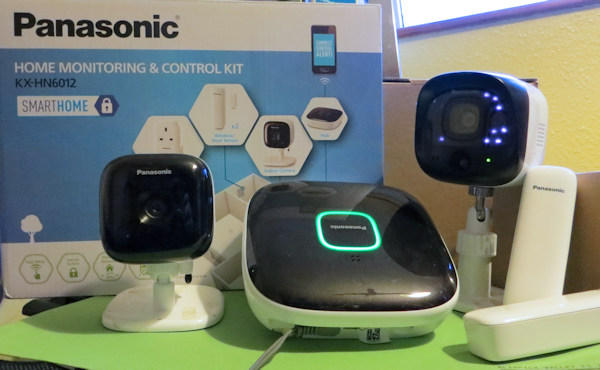 That square thing is the 'hub' which has an SD card to record too, and then there is an indoor camera, and outdoor camera, two sensors that detect doors/windows/cat flaps opening and a plug that you can turn on/off remotely.
It was very easy to set up, you download an app on your phone, then press a button on the 'hub' and it links your phone and the hub. You then link in the devices e.g. cameras you want to use to the hub by pressing matching buttons on the hub and the device (camera/sensor etc.). It worked perfectly first time.
Cameras
I set the cameras up first, that's me watching Scamp sitting on his box from my phone whilst in a completely different room (do you think he knows?).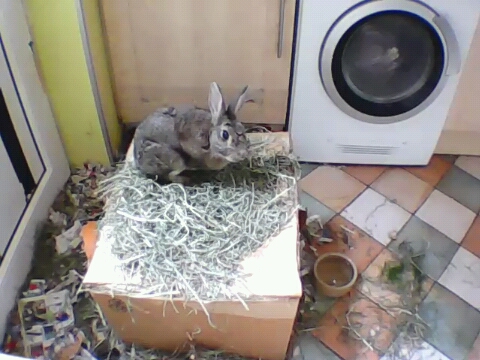 It's very addictive, I kept peeking to see what Scamp is up to. It's also interesting to see how he behaves when I'm not there. Like most bunnies, he has great hearing so if he's up and about he tends to race to the door in time for me to open it – it's hard to catch him just hanging about. With a camera, I get to see what mischief he was up to before I get there, for example, how does the hay get spread over such a wide area??? The answer… he stands on his box and digs at it until it gets thrown off behind him.
It also has night vision, so you can watch even in the dark…
The outdoor camera is water proof and has a x metre long cable. I ran it from the house, out an ajar window and it worked fine even in the rain. It comes with a base you can screw to a wall, but the attachment is a standard camera mount so I used my bendy Gorrillapod so I could attach it where I wanted and move it about.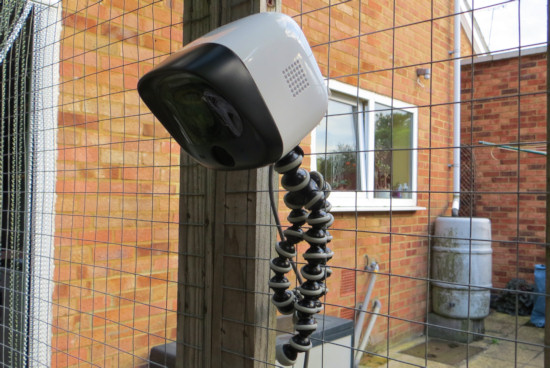 If your shed/aviary/hutch is nearish the house you could easily run it like that. I know many bunny owners have quite well kitted out sheds so you might have power installed anyway. It can be up to 300m from the hub and still connect so you just need power near where you want it.
Remote Access
It's not just another room you can watch from, once you've set it up on your phone/tablet you can access it anywhere. My parents happened to be going on holiday so before they went I connected my mums phone to the device and asked them to report back on how it worked for very remote bunny spying. Big mistake! Did I mention the cameras have two-way sound? You can hear your rabbit and use a built in speaker to talk to them.
It's very creepy to know you are in the house by yourself (other than a bunny obviously) and suddenly hear someone in another room having a conversation with Scamp – although Scamp didn't seem to mind. Worse, the indoor camera has a lullaby option that plays music, which I'm sure is actually designed for people monitoring babies not for attracting attention when you want to have a conversation via intercom on what you are up to on holiday! Lesson learned – remote viewing works great, so watch who you give access too!
Motion Detector a.k.a Poop Cam
You can press a button and take a photo and record video remotely if you catch your bunny doing something cute (or naughty). But, you can also set it to record automatically using door sensors, sound or motion as the trigger. So for example, attach a sensor to your rabbits cat flap and then get a record of each time they go through.
I was pondering what to up to test the motion sensors…  and then I thought – poop cam. What rabbit owner hasn't obsessed over whether their bunny is currently eating/pooping at some point or other? Not pooping is a sign of gut stasis and needs urgent vet attention, so if your bunny seems a bit under the weather or is recovering from being unwell, a poop cam would be perfect! You can check from work or see a record of when they used the tray. It would be handy too if you had a group of bunnies, because you could easily check who was using the tray which is tricky to monitor when they share.
Anyway, I set up one camera on Scamp's litter tray and one covering the rest of the kitchen (where he lives when he's not out and about). His litter tray is just out of shot in the bottom right corner on Camera 1.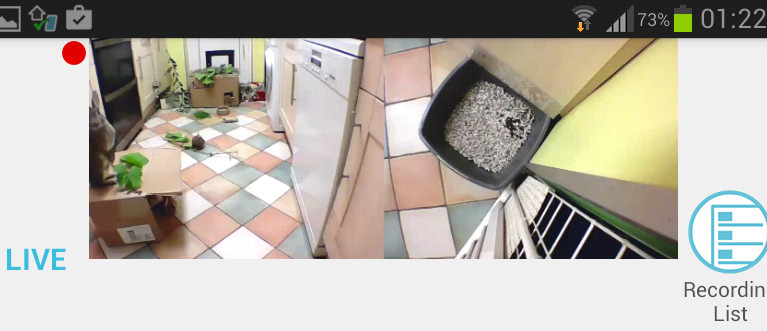 Then I set it to record for one minute seconds each time it detected motion. Some of the resulting video clips are below:
Scamp hoping about:
Late night snacking with his treat ball:
Poop cam:
So Scamp messed about a bit, napped, visited the loo and was surprising well behaved.
Sensors
The window/door sensors were as easy to set up as the cameras. The door/window sensors would work on a cat flap or a hutch door, or even on your garden gate if you were worried about people coming into your garden. There are two pieces and you fit them next to each other when the door is closed, and the system detects when they move apart and can take a picture or send an alert. They are completely wireless (they have batteries) and just have to be within 300m of the hub (which I think will cover most people's gardens!).
Summary
All round it was very easy to set up and use, the sensors and motion detection etc. all worked perfectly. It was fun to watch, and reassuring to be able to check what he was up when I wasn't there.  The only downside is I'd have liked HD quality recording, it's good enough to see what he's up to, but a little blurry for sharing photos with you of what Scamp's up to.
If you'd like to find out more the product page is here: Panasonic Smart Home System
Thanks to Panasonic for letting me and Scamp play 🙂
Anyone else use bunny spy cameras or tempted to get one?
Tags: rabbit-products, Scamp, spy-cam