With all the different dry foods, fancy types of hays and treats available for discerning rabbit owner to chose from sometimes the simplest diet options get overlooked. Grass is the most natural of foods for a rabbit to eat and is often readily available at very low (if any) cost.
It is tasty, if you are a rabbit, and will often tempt rabbits who turn their noses up in disgust at hay. It is also high in fibre, great for wearing down teeth and the rabbit digestion system has been perfected to digest it.
So why do many rabbits never get to eat it?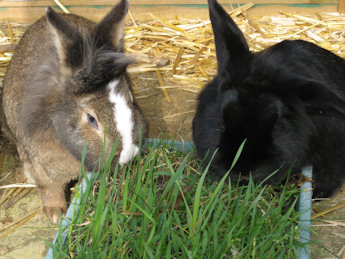 There is often a worry among rabbit owners that fresh foods can upset the gut and cause diarrhoea. It's true, if you suddenly gave your rabbit a large pile of grass it probably would upset their gut, but a large pile of a different brand of dry food or treats would have the same effect. New foods need to be introduced to rabbits gradually. Start by feeding small quantities of grass daily and build up the quantity gradually over10 days of more.
If you are picking grass, rather than letting your rabbit graze, then use scissors or pull it up. Do not feed lawn mower clippings. The heat and crushing action causes the grass to start fermenting which will upset the gut if eaten.
Don't have a lawn? No problem. Grass is easy to grow and can be grown in trays, window boxes or pots on your window sill.  Put some general purpose compost (available at garden centres/DIY shops) in a tray or pot and sprinkle grass seed on top. Water if it gets dry and wait.
You can either cut the grass or put the whole tray/pot in your rabbits pen.  If you put the tray in your rabbits pen take it out again after they've eating it and allow it regrow. In a few weeks it will be ready for them to eat again. As well as being tasty it is an excellent form of enrichment to prevent your rabbit getting bored.
Normal lawn grass seed is fine to use but you you can also buy Timothy grass seed or seed/weed mixes that contain other plants such clover, dandelion and thistle (as shown below).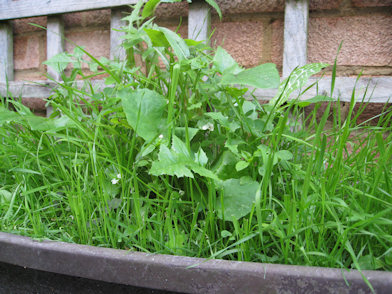 The different plants help provide different vitamins & minerals, mimicking a wild rabbit's diet which contains a varied assortment of plants in addition to grass.
Tags: Diet, diet-grass, rabbit-health, rabbit-toys, wild-rabbit