Today I'm going to let loose my inner geek, want to see something cool?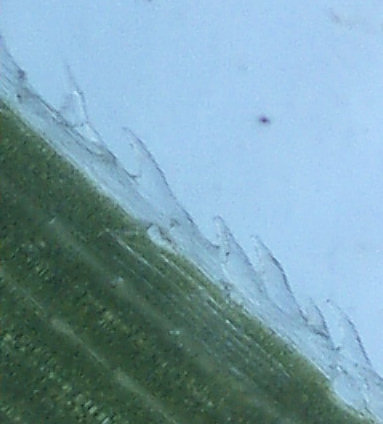 Look at those pointy bits! What do you think, a cactus, saw blade, sharks teeth… ?
Nope, that's a blade of grass magnified a few hundred times and those pointy bits are the reason grass (or hay) is an essential part of a rabbit's diet.
Rabbit's teeth grow continually throughout their life. To stop the teeth growing too long and causing problems they need to be worn down at the same rate they grow. That sounds fairly logical. But what seems to puzzle a lot of owners is: why does it have to be hay? Surely pellets are harder so would create more wear or even some nice crunchy carrots – wouldn't they work?
Whilst other foods may contribute some degree of wear, as you can see from the picture, there is something very special about grass and this makes the number one thing for maintaining rabbit's dental health.
Most people think of grass as soft, like me, you have probably enjoyed sitting on it at some point. But grass is actually very similar to sand paper. Sandpaper isn't hard, it's flexible  and you can tear it easily, but if you rub it against something it will wear away the surface. Like the sandpaper, the reason grass is good for wearing teeth is how rough the surface is, not how hard it is. Here is another close up of your rabbit's dinner:
The reason that grass is rough is it doesn't really want to get eaten. So to protect itself, it sucks up silica from the soil and uses it to build rough spiky structures called phytoliths.
If you don't have a microscope to hand, you can feel them with your fingers. Run your fingers down a piece of grass they will catch on the surface – you can see why from the picture above. This is the same reason hay is so great at catching on your clothing and spreading itself around the house. And why it is so good at wearing down rabbit's teeth!
Pellets are hard and carrots are crunchy, but neither are rough enough to act like sandpaper on rabbits teeth. For the same reason, grass is just as good as hay for wear, even though hay seems harder because it's dry and crunchy.
Hands up all those about to go fondle their hay to see how rough it is… 🙂
Tags: Diet, diet-grass, hay, teeth