Scamp likes to chew, and as far as he's concerned the bottom edges of my kitchen cabinets are just perfect for gnawing on. I don't share his enthusiasm, so I had some custom cupboard protectors made. They are clear perspex (in the first picture it still has the blue protective film on) with a small lip the depth of the door. They are held on with clear sticky pads.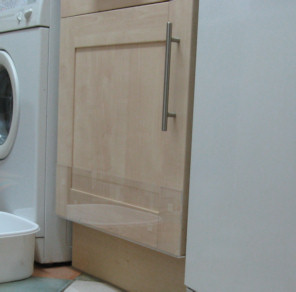 I had them made to order from a perspex ebay seller. There are lots to choose from and many sellers will cut to size if you ask. You can also pick perspex up in a DIY store.
They have been up for awhile now and successfully Scamp-proofed the doors (he's moved on to the skirting). I have to peel them off occassionally to clean behind but in general they look neat and work great.