Scamp takes a lot of entertaining and a rabbit food ball (sold by Rosewood Pets and various other companies) is one of his top toys. Unlike some other rabbit toys that get played with a bit and then ignored this has kept his attention. Though, that may have something to do with the food I keep filling it with.
It's a very simple toy; a wire ball with a chain to hang it up and a bell on the bottom. One side has a section of wire missing so it's easy to fill with goodies. It's too small to hold enough hay to be useful, but it is perfect for stuffing with veggies.
The wire restricts access so that food has to be nibbled as the ball swings and you can adjust the height to make the activity more easy or difficult as required. If your rabbit is really clever, hang the ball up high so it's only just in reach or only in reach when stood on a box.
Making rabbits work hard for food is great enrichment. It stops them getting bored and eating your wallpaper instead, and it also encourages them to be active, stretching and jumping to get what they want.
In this photo I'd wrapped Scamp's veg up in paper before putting it in the food ball to make him work extra hard. As you can see, shredding the paper to get the treat is giving him a good work out.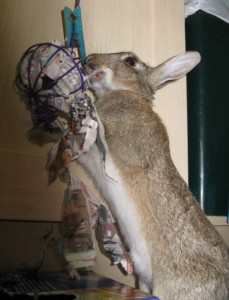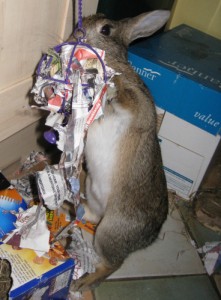 Tags: rabbit-products, rabbit-toys