Don't worry, Scamp hasn't been over indulging; he's been helping me by modelling for an article on bunny weight. Have you ever seen the photoshoped pictures of models where they airbrush out the lumps and bumps, and drop them two dress sizes? Well it was Scamp's turn! Here is the original: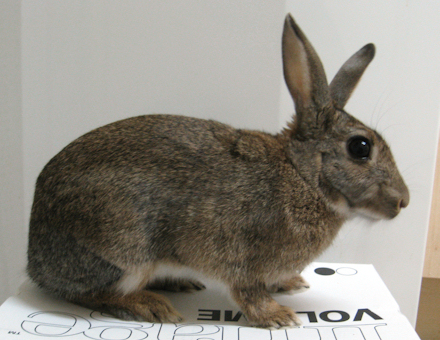 And here is the 'photoshoped' version with the too fat and too thin versions added:

If you want to read the whole article it's here: Is my Rabbit too fat or too thin? Monitoring your rabbits Weight
There are a few things I've been meaning to mention. First is a competition running on another site I manage for free seeds to grow your rabbit some dandelion, carrot and broccoli – good healthy snacks! Enter the competition here – also handy if your looking for bunny boarding.
Finally, I think this is one that most of you will have heard of, but I just wanted to add a plug for the Make Mine Chocolate Easter campaign. The are organising an amnesty with pet shops to discourage sales of rabbits over the Easter period as well as plugging rabbit welfare in general. They have some very snazzy posters you can put up to help get the message across. Anything that helps rabbit welfare, whilst encouraging the eating of chocolate gets thumbs up from me!
Oops, nearly forgot. I added little bookmarking icons to each post too, just in case you want to email, print or post something to social network.
Tags: grow-your-own, rabbit-welfare, Scamp