Most people are generally positive about animal rescue and adoption – adopt don't buy and all that. It's the feel good way to get a new pet, but when it comes to rabbits there are some really good reasons why you might want to go to a pet shop instead.
1. You have difficulty with decisions
One of the big issues with rescues is the amount of animals they have for adoption. If you go to a pet shop you'll be presented a litter of half a dozen or so siblings to choose from, you'll probably find mini lops, dutch or lionheads or some combination thereof. They'll already be divided into boys and girls to help you pick. If you aren't sure if you want a girl or a boy, that's okay, pet shops aren't great about telling the difference so really it's like a fun game of lucky dip, with the possibility of a bonus prize (another half dozen for the price of one).
Go to a rescue on the other hand and be prepared to be overwhelmed. There will be big bunnies, little bunnies, black, brown, white, orange, blue and spotty bunnies. Bunnies with smudges and butterflies and droppy ears and upright ears and some half way in between. Honestly, you'll probably have to spend a whole afternoon just cuddling them one by one to work out which one you want to take home.  Many rescues try to mitigate this problem by insisting you take two, but that doesn't make narrowing down your choice much easier.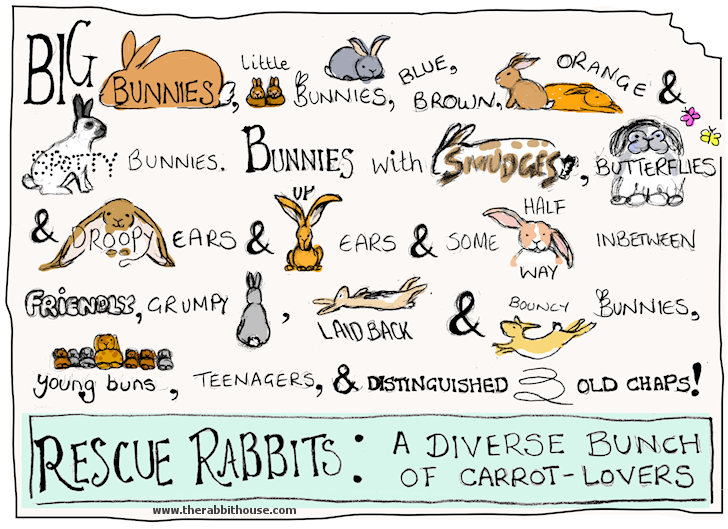 Edit: You can now get a poster (or t-shirt) of this image in my cafepress shop.
2. You only want to see babies (and not their mummies)
The overwhelming choices you'll be subjected to at rescues aren't just about breed, it's also about age. Go to a pet shop and you'll notice the rabbits are all small and a bit fluffy looking – these are babies.
Rescues actually have these too as they often take in rabbit mums, or rather rabbit mums and dads (hint: both are necessary for rabbit babies). But, they also have older rabbits – teenagers, young professionals (chewing's a profession, right?), middle age couch potatoes (a.k.a professional couch chewers), and dignified oldies (in my day we ate the skirting boards and liked it). The trouble is if you accidentally adopt one of these you miss out on so much fun stuff… like litter training.
3. You don't want to miss out on the teenage stage
You've probably heard rabbit's can be litter trained, and that's true, but it's also true that litter training goes out the window for a few months during the transition from cute baby to old enough to neuter, a stage rabbit owners fondly refer to as ranging hormonal teenage rabbit (RHTR).
If you go to a rescue you'll probably get issued with the already neutered option, this means you'll completely miss out on the RHTR phase and really, you can't call yourself a rabbit owner until you've been sprayed in the face with a jet of urine from a love sick RHTR. When you think about it, squirting urine 3-4 times your own height is a feat of skill worthy of Country-Of-Your-Choice's Got Talent. Personally, I also think that the ability to scatter droppings over such a wide area should be appreciated for it's artistic expression too, or maybe just for the fact the volume suggests rabbit's insides have a Tardis like quality that deserves greater study.
4. You like noodles (a lot)
On the subject of neutering, one of the big differences between buying from a pet shop and adopting from rescue is the features that are included as standard. If you go to a rescue you'll find neutering, vaccination and health checks included in the fee.
Your upfront costs are much lower if you go to a pet shop, where you'll get a base model with none of these fancy extras included. Obviously you'll still need to purchase these extras at a later date, you aren't an irresponsible owner after all, and it will cost you more because rescues tend to get discounts and not pass on the full cost to adopters BUT everyone knows the best things in life cost you a fortune. You wouldn't enjoy your bunny nearly as much if you hadn't lived on noodles for two months to pay for the neuter after your rabbit's Got Talent career didn't pan out, right?
5. Your vet is very good looking
If your vet is single and attractive but you haven't quite plucked up the courage to ask them out then obviously you want to maximise your chances by hanging out in the practice as much as possible (bonus tip: remove the hay from your hair before each visit). You might think rescue = second hand = more likely to need a tune up but, the trouble with rescues is they tend to health check, any on going issues will usually have been identified and babies grow up in nice surroundings which aren't at all conducive to developing issues compared to the rabbit equivalent of puppy mills that supply pet shops.
Whilst there is no guarantee with any bunny, a young weaned too early pet shop baby is much more likely to have you strutting your stuff at the vet practice on a regular basis. Plus don't forget all those extra features (neuter/vaccination) which will require a minimum of two or three vet visits. Go get um tiger!
As you can see buying from a pet shop has many hidden and under appreciated benefits. If you are trying to make the decision rescue or pet shop, I really hope this has helped you think over a few of the pros and cons. If anyone has any more points prospective owners should consider please add them to the comments below!
😉
Edit (2016): Obviously I'm not as funny as I think I am. For those that didn't get it… no I'm not seriously suggesting getting an unneutered, unhealth checked, urine spraying, possibly sick (and may cost you a fortune in vets bills) pet shop rabbit is a better option than an adorable, neutered, vaccinated health checked, and available in a wide range of breeds and ages, rescue rabbit.
Save
Tags: rescue