I've mentioned foraging, picking plants from the 'wild', before. It's a great way to suppliment your rabbit's diet. So, I was really excited to hear about a new book 'Foraging for Rabbits' by Dr Twigs Way. I immediately ordered two copies (one for Scamp and one for you guys – more on that at the end).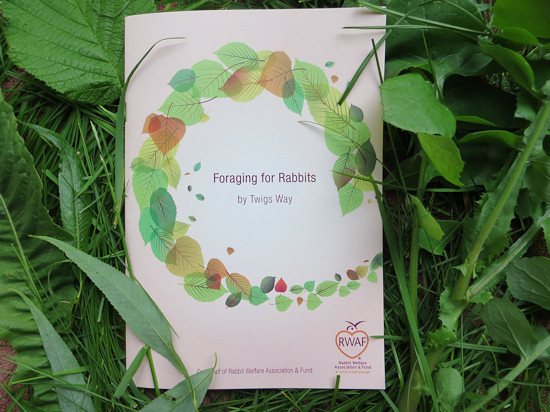 It's the perfect little guide for anyone who is thinking about foraging but is a bit unsure where to start.
Whilst there are a lot of books on identifying plants, this book is written specifically for rabbit owners, in fact Dr Way's rabbits have helpfully rated all the plants suggested on taste – afterall just because something is safe to eat doesn't mean it's tasty. In fact my favourite line from the book is in answer to the question: what if my rabbit doesn't eat what I have collected?
If a rabbit or group of rabbits does not want a particular plant but is/are otherwise eating then just take the plant away again (and apologise).
Because we know who really is in charge!
The book starts of with an introduction to foraging – why forage, where to forage safely, the law on taking plants, drying and storing forage, toxicity, and understanding plant names. All illustrated by cute photos of bunnies tucking in to tasty plants.
The rest of the book contains just over 60 (if I counted right) common plants that you can forage. Each plant has a colour photo, the common and latin names, a description and some tips – for example when it's at it's most tasty, where to find it, if it dries well or if it's good for something in particular and the taste rating (in stars).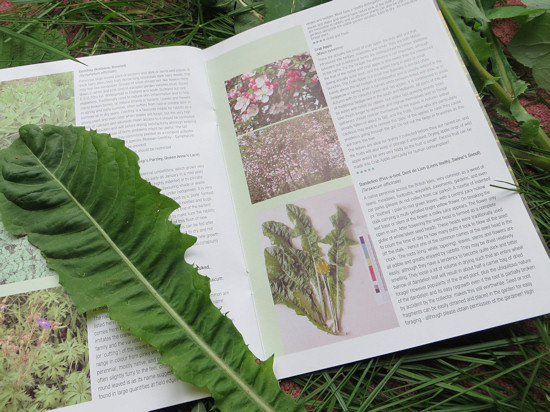 Most plants only have the one photo, but the latin plant names mean it's easy to search online or in plant books for extra photos to help with an ID and the back cover includes a helpful list of plant reference books. The book itself if a nice size (A5/35 pages) to pop in your bag when foraging, unlike a giant tome that some general guides are.
I've already tried out two new plants thanks to the book, both of which Scamp approved.
You can also hear Dr Way discuss foraging in Episode 4 the All Ears Podcast here. And me discuss rabbit behaviour and enrichment in Episode 8 here.
Foraging for Rabbits is available via the Rabbit Welfare Association here and costs £4.
Win a Copy of Foraging for Rabbits
As I mentioned, I bought two copies, so I'm giving one away to my lovely readers. For a chance to win, please leave a comment below – why not tell me what you think about foraging – is it something you've tried or are thinking about tryin? I'll draw a winner on 22nd June 2015.
Happy Foraging!