Rabbit Safe Wood Preservatives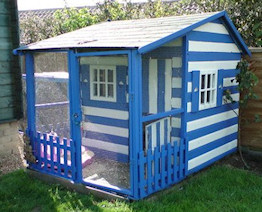 Get creative with your bunny hutch or shed.
Wooden hutches, sheds and runs will need treating with pet safe wood preservative to keep them in good condition and prevent damage from being outside in all weathers. It's important that the preservative you use is pet safe. In general terms that means look for products that are:
Waterbased (not solvent)
Free from heavy metals
Low VOC (volatile organic compounds)
Not creosote
Petsafe generally means it's safe for your rabbit to be in contact with after it's dried e.g. it won't have lingering strong fumes and touching/licking it will not have any effect. However, manufaturers won't guarentee it's okay for a rabbit to chew and injest. It's best to minimise the opportunities for your rabbit to chew on it by:
Removing your rabbit whilst painting and until preservative is fully dry
Only painting the exterior
Fitting mesh on the inside of run or hutch door frames restrict access to the wood
Fitting corner guards to any other areas they show a preference for nibbling
How much will you need?
Coverage (the area you can cover with a certain amount of paint) varies slightly between brands, but, approximately, you'll need one litre of paint for two coats on a 6'x2' hutch (3m2 per coat) and a medium sized run and 2.5 litres will do a 6'x4' shed (11m2 per coat) and run.
Here are some suitable products:
Cuprinol Garden Shades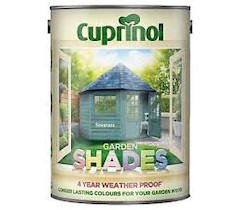 Cuprinol Garden Shades is the water based paint that comes in the biggest range of colours. It is widely used by rabbit owners for housing so generally considered a safe option. It's also readily available in most DIY stores so it's easy to find the colours you want.
Available from £11 per litre at Amazon
| | | | |
| --- | --- | --- | --- |
| Colours | 95 | Lifespan | 4 years |
| Coverage (per litre) | 10-12m2 (smooth timber) 3-5m2 rough sawn (2 coats) | Price | £13.24 per litre |
Wilko Garden Colours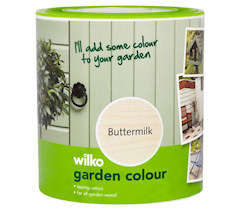 This range is safe for the exterior of rabbit hutches once dried, but, as standard, they advise not to paint the interior where the rabbits could gnaw on the wood and ingest the paint.
It's only available in Wilkinson and the colours available from store to store vary, but it's the cheapest option and sometimes they have offers making it even more cost effective.
| | | | |
| --- | --- | --- | --- |
| Colours | 5 | Lifespan | Unknown |
| Coverage (per litre) | 10m2 (? coats) | Price | £7.95 per litre |
Ronseal Woodland Colours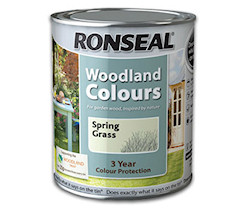 Ronseal Woodland Colours is another water-based wood stain.
It comes in 750ml or 2.5l tins so becareful when comparing price, it might look cheaper than some other brands but make sure you are comparing the same size tin. They also recommend more coats than other brands so you'll need more paint.
Available from £9 per 750ml at Amazon
All suitable are 5 Year Wood Stain and Quick Drying wood stain which are available in natural wood colours.
| | | | |
| --- | --- | --- | --- |
| Colours | 16 | Lifespan | 3 years |
| Coverage (per litre) | 20m2 (3 coats) | Price | £7.99 per litre |
Protek Wood Protector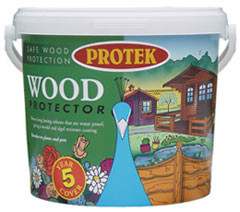 Protek Wood Protector is a water-based timber paint with added wax and acrylic. It contains no turpentine, white spirit or heavy metals.
It's marketed as "ideal for animal areas such as chicken coups, stables, kennels and catteries".
It's also available as a clear wood preservative called 'Clear Tough Coat', which you can either use on its own over bare wood to waterproof it whilst keeping the natural timber colour, or add over the top of their coloured Wood Protector to make colour last longer and increase waterproofing.
Standard
Colours
30
Lifespan
2-3 years
Coverage
6-12m2 per litre (2-3 coats)
Price
£8.50 per litre
Clear Tough Coat
Colours
Clear
Lifespan
2-3 years
Coverage
6-12m2 per litre (2 coats)
Price
£12.99 per litre
HS Richards Good For Wood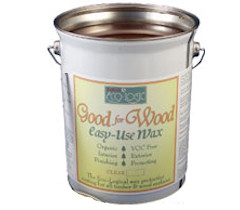 Good for Wood is slightly different in that instead of being water based, it's made from natural oils and waxes. It's VOC free and safe for animals and plants. It's transparent (with a slightly shiny finish) so you can either use it on its own if you like the natural wood look or over the top of one of the other brands coloured stains for extra weather proofing.
Available direct from Good For Wood
| | | | |
| --- | --- | --- | --- |
| Colours | Clear | Lifespan | 2-4 years |
| Coverage (per litre) | Not Known | Price | £12.60 per litre |